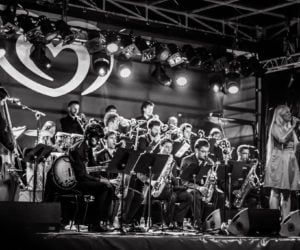 Surely if you are here is because you are interested in buying arrangements for Big Band, and the truth is that you came to the right place.
Below you'll find a list of scores for Big Band in PDF very cheap! 
The sound of the Big Band´s
In Latin music score from our beginnings as a platform for music services and e-commerce of sheet music in PDF, one of our strengths is the area of Big Band since our arrangers most have been directors or have integrated this type of formats during A lot of time and in general the majority is the format that they like when composing or making arrangements.
The loudness of the Big Band is one of the areas in which we like to play and precisely the majority of our repertoire is made for this particular format.
Top 5 arrangements for cheapest Big Band!
Well here we leave a list of the 5 arrangements for Big Band cheaper according to their artistic value and you can buy directly on our website. No doubt they are a guaranteed success in your repertoire.
1. Cinnamon Skin-Bolero
The famous bolero of Master Bobby Capo in the version of Andres Cepeda for Big Band.
This is one of the most sold pieces in our portal since without a doubt it is ideal for any repertoire of boleros.
Acquire it with a super discount!
You can buy this product directly on our website Piel Canela-Bolero for Big Band | PDF Scores
2. New York, New York-Jazz
One of the most famous classics of the Great Frank Sinatra. New York, New York was composed by Fred Ebb and John Kander. This work is part of the list of the 100 most popular songs of American cinema.
It has a close relationship with the Christmas festivities in the United States.
In this case we worked on the adaptation of Lady Gaga in a transcription for Big Band.
New York, New York for Big Band | PDF Scores
3.  Black Christmas-Cumbia
Black Christmas of Maestro José Barros, a beautiful work of traditional Colombian music.
It is an arrangement designed exclusively for the format of Big Band in vocal version in A minor 
Black Christmas-Colombian Cumbia for Big Band
4. Mambo 8-Perez Prado
The Mambos of Perez Prado are unique and could not miss in our repertoire, the Mambo #8 for Big Band is a transcription of the original work.
Mambo No 8-Perez Prado-| Mambos for Big Band in PDF
This one is part of another series of mambos of the type-setter, that also you can find in our portal.
Mambos de Pérez Prado for Big Band here
5.  The singer-Salsa
The singer of Hector Lavoe is wanted the most important piece of musical career of the Puerto Rican. Since it was able to consolidate it as the "singer of the singers", it also makes this theme an icon of salsa. The work is composed by Rubén Blades but certainly the interpretation of Hector Lavoe
Makes it bigger
The arrangement for Big Band is quite special as it preserves the string assembly line that we can hear in the original recording.
The singer of Hector Lavoe-Salsa for Big Band with strings
Listen to the original version here:
Remember that the arrangements you can buy directly on our website, once you make the purchase you can download the PDF scores from your account in the downloads section. All your purchases are covered by our return policy so you should not worry, your purchases are 100% secure through payment gateways such as PayPal or stripe.
Your credit cards are never stored on our servers, for us you are the most important thing is why if at any time you have a problem with your order you can write to our networks or our customer service mail, so have the confi To buy with us
We hope you will be useful, a hug!
Personalized scores (arrangements, compositions and transcriptions on request)
We must say that sometimes the repertoire that we have in our catalog can be short to the needs of most groups (although we are working hard to make this better) so our personalized service is the solution Ideal!
You can ask us without problem to order sheet music for any type of grouping, format or musical style. We have a group of expert arrangers who will be able to take care of your order!
Contact us for our official Facebook Fanpage and request your quotation!
List of all our repertoire catalogue available for Big Band
This is our complete catalogue of scores for big band that we already have ready for sale, ask us for any arrangement you want to buy.
Boleros
Capullito de Alelí
As it was
With you in the distance
Glove Finger
You're My Everything
Flores Negrras-Black chips
There are loves
Hello Soledad
The Glory is You
The Forty
Blackness
Cinnamon Skin
Used Kisses
Beautiful Maria
Evocation
Mambos, Cha Cha Chá, Latin Jazz and Salsa
Barber of Seville
Midnight Mambo
Pink Cherry
Mambo # 5
Mambo # 8
Mambo del Politecnico
That rich the Mambo
Mambo Guadalajara
Mambo trumpet
La Macarena
Patricia
The Popoff Girl
Guaglione
Mambo in Sax
Mambo influenced
Cuban Fantasy
Calzada del Cerro
Mambo Maracaibo
Relax Mambo
Butter
Mambo Summer Violent
Rice with beans
The Black Bembón
The Tula Quarter
The death
New World Spirit
Murga de Panama
Siboney
Ran kan kan
They're from the ridge
Bilongo
Nice and tasty
María Cervantes
Cumbias
February Two
Colombia Dear Land
The canoe
The Rancha canoe
Macumbia
San Felipe
The Fisherman
My name is Cumbia
The Wagtail
The rising
Violence
The Cinnamon Blossom
Chocó
Lucho Bermudez
New year
Arros with coconut
Naval Cadets
Squid
Caracolí
Carmen de Bolivar
Flirting
Diana Maria
Gaiteando
Gloria Maria
The bagpipe
Matildita
My People
Minaret
Nelly
Pepe
My Sahagun
Salsipuedes
Taganga
Te Buco
Tolu
Arturo García
Party of Negritos
San Fernando
Edmundo Arias
Ave Pa ' ve
Albite
Alicia
Something is going
Amparito
Alma Quibdoseña
To the Skirts Compas
Baby
White
Consuelito
Caribbean Cumbia
Cumbia Candelosa
December Blue
Mechanical
Fanita
Gaita Sonolux
Guepa JE
Ines
The things of Life
Leidy
Lygia
Libya
Marlene
Martha
Merecumbe of Flowers
Nubia
Orlandito
Patricia
That Merecumbe
What's the matter
Silvia
Poisonous
Victoria
Joints
Dance Pacho
Ash mouths
Cariseco
Champion
The gigs
Nice joint
San Carlos
Wilsón
Young president
Palermo
Peter P.
Joint
Ringlet
Old Cow
Wild Wind
Billos Caracas Boys and the Melodicos
Bitter and sweet
Noah's Ark
Cantor de Fonseca
Cayetano
Corozal and Sincelejo
Tonight we are dawning
Juanita Bonita
The race
Maria Morena
My drum
Nostalgia Campesina
For Santa Marta
Palmira señorial
Three Pearls
Sentimental temperament
Roberto Ruiz
Veneration
Super Combo Los Tropicales
Caiman and Gallinazo
Arrivederci Lola
Compadre Polo
Clarinets and scolding
The handle
The Dance of the doll
You know
Remember that all these arrangements are already available so you should only write to us if you are interested in any.
[serptrade]